GC had this for $250 in fair condition. At the worst $150 - $200 less than what they go for. I called and they told me that there are few covered holes as there was a different pick guard before. And two of the knobs fall off. Well, no risk due their return policy, for that price, heck yes.
Arrived today. With white back interwebs seems to indicate some FSR. SN puts it to May 2016.
Few little dings but quite clean otherwise. So let's look at the issues. The knobs falling off was due the fact that the previous owner had tried to make them stay put by stuffing paper underneath the knob. It took 2 minutes with this to tighten the screws and fix it:
Can't belive GC could not figure that out.
The holes (3) are there covered with gold color tops of nails. But that would be the strangest pick guard ever. Two behind the bridge PU and one at the top of the body. No clue what the previous owner had intended.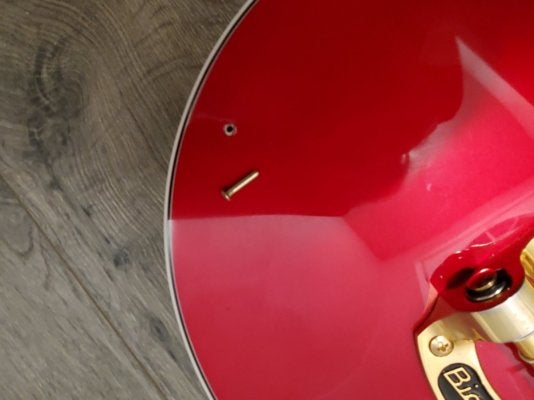 Intonation was of course off. But other than the holes, it's a healthy guitar and I like the two tone color. Sounds as it should neck is good and stays in tune. Steal for $250 IMO!