I am lucky to have slowly wheeled and dealed and accumulated a few nice guitars (the more expensive ones were acquired as used bargains scouring eBay etc.). For this discussion a 6119 Tennesee Rose and a 6122 II Double cut (as per avatar).
I just recently bought new a 5232t (the double cut model) in Midnight Saphire and LOVE it. While I was leaving the store with it I noticed a hollow body in an amazing metallic blue, what mostly caught my eye was the size.
It appeared to be similar to a Les Paul but with F holes.
One of my dream guitars IS an F-Hole hollow body Les Paul. I don't even know what Gibson calls that model but given my affinity for Gretsch Hollow body and the sound that tends to produce it strikes me as a guitar I would really like.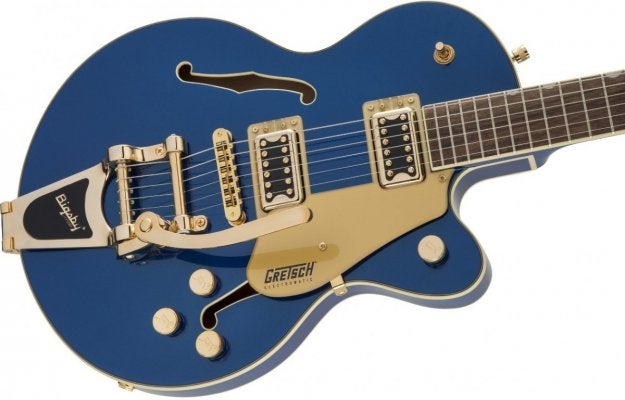 I doubt I would ever spend Gibson money again (and love my Gretsches) so I wondered if you guys could help with experience in any of these guitars in comparison to what I think must have been a 5655 jr.
First of all, IS the 5655 jr a near Leas Paul body size or is it more in line with the Tennesee Rose size?
Does anyone have the 5655 and can they provide some thoughts on it?