Probably the least expected subject on a Gretsch group but hey.
I was not a fan, they sounded pretty good with a boatload of gain but clean they just seemed lifeless and dull.
My buddy Billy wanted me to build him a guitar with the 81/60 combo favored by Jim Root. Since it wasn't for me, I put them in and they did nothing to change my perception of them.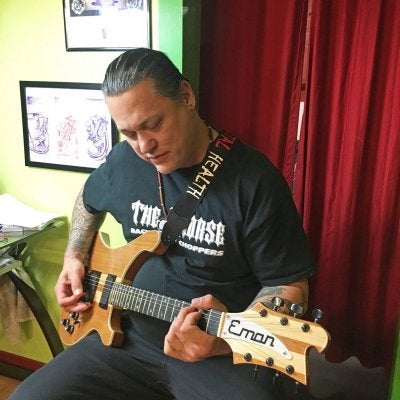 And then Jim Root asked for a guitar, one of the (many) stipulations was the 81/60 pickup combo.
Sounded the same to me.
I built this bass using GFS active pickups, they sounded good but during recording they had some odd characteristics. I replaced them with EMGs and it sounded really good.
The "Bubble Wand bass had a set of "Geezer" EMG passives.. great sound.
After I sold the bones of that bass (nobody wanted it in one piece) I used the same Geezer P bass pickups in this super lightweight blue bass. Great sounds all round.
EMG came out with the "Reto-Active" sets, they looked traditional and were voiced like hot guitars from the 70s, three different types that I used in three different guitars. All sounded great!
And lastly on the rescue of this Chinese FakeStrat, the retro active "Crossroads" set sound really good, just like you'd think a hot rod strat should, without the noise or loss of tone when you turn the volume down.