Not a Gretsch, but this may be of interest to my fellow jazzers here (or anyone who is looking for a great-sounding, dual humbucker hollowbody). I'm selling my 2008 Benedetto Bambino, listed on Reverb for $3400 plus shipping, I would sell for $3250 to a gretsch-talker in good standing. Here is the listing:
https://reverb.com/item/67115339-benedetto-bambino-2008-antiqueburst-espresso
And the description:
2008 Benedetto Bambino with the inspection card signed by Bob Benedetto. This guitar is in great condition with only minor play wear. The guitar was just set up with Thomastik Infeld Jazz Swing strings, 11-47, and plays great. The Benedetto A-6 pickups sound fantastic, and can be tapped with the push/pull pot on the tone knob typical of Bambinos of this era. 1-11/16' nut width, 12' radius. Note that there is cosmetic cracking in the lacquer near the position marks on the upper frets - this does not affect playability in the least but is visible in the right light. Comes with original hardshell case in good condition. Feel free to reach out for additional or detail photos.
Benedetto description of the Bambino:
"As its name implies, the Bambino is a baby in size, but with a big voice. This extraordinary model is a prayer answered for the musician with a lot of time on the road. Its lightweight and compact 14 ½" body is easily manageable in airport traffic or taxis. It features a laminated maple top and back, a maple neck shaped for playing comfort as only a Benedetto can be. With two chrome plated Benedetto A–6 pickups, it's all you'll ever need! So, if you're looking for the tone of a big jazz box but need the compact comfort of a smaller guitar, this model was made for you."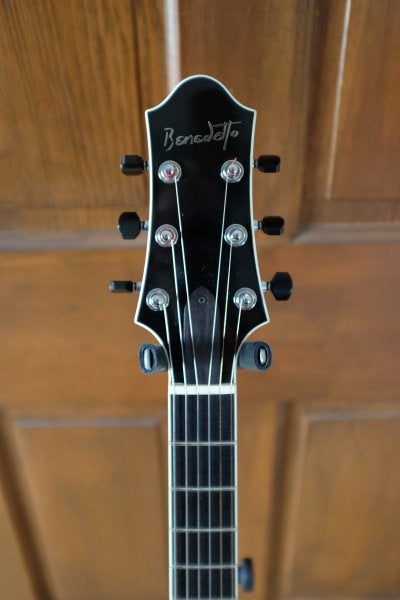 Last edited: