I have a new 5260t. I am trying to tune it. No matter if I push Bigsby up or down, most strings change by almost 20 cents up. Always the same value. Stretching any of these strings puts them back in tune, individually one by one. I do not think that it is the nut, because pushing Bigsby down creates an opposite force on the nut, compared to pushing Bigsby up. Yet in both cases, the pitch increases. Neither I thing that the floating position of Bixby or the bridge changes, because stretching one string brings it back in tune, but not the other strings. There is another method of bringing a string back in tune: press it at the place indicated in the photo below.
I oiled the nut, the bridge and Bixby itself. It made no slightest change. Do you have any idea, how to fix, what to try/measure?
This is a screenshot of the pitch change. If you disregard the noise (tuner's error if the sustain was already low, octave jumps etc.) it shows mostly what I said. Letters below indicate string numbers.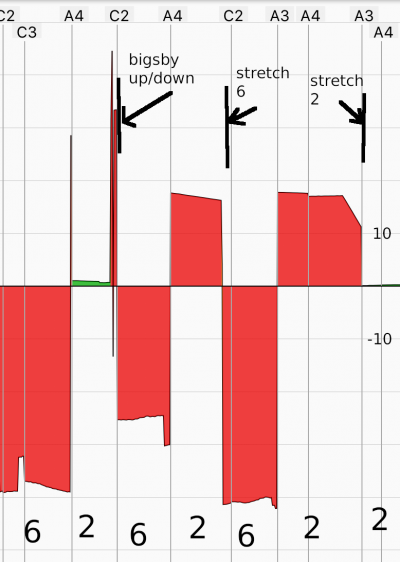 Here is the photo:
Last edited: